Digital Photography Tips – White Balance with a Gray Card
Posted on May 12, 2009 by Bo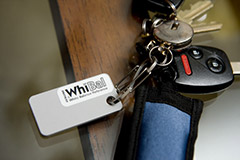 One thing that often gets overlooked by amateur photographers is getting accurate color in your photos. The first step to getting good color is making sure you have paid attention to your white balance. White balance, sometimes known as color balance, is basically making sure that white appears as white in a given lighting scenario.
Many people deal with white balance by simply setting their digital camera to Auto White Balance (AWB). While cameras do fairly well at achieving good white balance automatically, there are a few steps you can take to insure more accurate depiction of colors.
The absolute easiest way to get accurate white balance is incorporating a gray card into your workflow. With a gray card, you simply take a photo of the gray card in the lighting scenario you're working with; you then have a solid reference point for middle gray, usually defined as 18% gray (though some claim that camera and light meters see closer to a 12% gray).
Get a Gray Card
My favorite gray cards are the WhiBal range of cards from RawWorkflow.com. When I first started practicing photography with a gray card, I got a 4×5″ card that didn't fit in my camera bag so I always forgot to take it on location sessions. To remedy this, I picked up a card that I keep on my keychain for $18. Now I've got a handy gray card with me wherever I go. I simply setup the scene and then snap a photo of my subject/model holding up the keychain-sized gray card.

Balance It Out
After you've captured a gray card in your photo, it's incredibly easy to set the white balance inside Photoshop. The easiest way is to open the photo inside Camera Raw.
Simply choose the White Balance Tool in Camera Raw (the eyedropper icon toward the top left corner of the window) and click on an area of the gray card.
As an experiment, I purposely messed up the white balance so that the gray was wasn't anywhere near actual gray:

One click on the WhiBal gray card instantly corrects the color of the image:

This illustrates the effectiveness of the gray card and shows that it works even if your camera's white balance setting was inaccurate.
This method works great with both RAW and JPEG images, so regardless of your shooting preference you can be sure to end up with accurate color through custom white balance with a gray card.