Configure Gmail with Labs and Themes
Posted on November 24, 2008 by Jared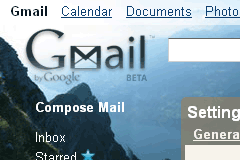 I've been using (and loving) Gmail for several years now. It's the first thing I open in the morning and the last thing I close before I leave the office. I also like to tinker with features and look at pretty pictures. Did someone tell the Gmail team about this?
If you've been using Gmail for a while now, you may have stumbled through some of the settings just to see what's out there. Maybe you've heard about these new fangled themes that people have been talking about. Just in case you're oblivious to the many wonderful ways you can customize and configure your Gmail account, I'm going to go over some of my favorite features and how to use them.
How to Configure Gmail
There are several ways to configure and customize your Gmail account, especially if you're using Firefox. The most popular are Firefox Extensions, Gmail Labs, and the new Gmail Themes. If you're not using Firefox (shame on you), you can do a good deal of configuring without the extensions.
Using Firefox Extensions to Configure Gmail
There are two really nice Firefox extensions that can be used to configure Gmail. Actually, one of the extensions affects your entire Google experience.
CustomizeGoogle offers a wide array of options that lets you customize your Google and Gmail experience; my favorite is the ability to remove ads from both. This benefits me most in Gmail, as I'm able to use my entire screen for mail functions, and not ads. Here is a brief animation that shows off some of the features you get with the CustomizeGoogle extension.
Better Gmail 2 adds some functionality to your Gmail account. My favorite features are the Highlighted Messages and Attachment Icons. You can use different skins with Better Gmail, but they aren't as nice as the new Themes that were recently rolled out.

Configure Gmail with Gmail Labs
Ever wondered what that little green beaker at the top of your Gmail screen is for? That's your ticket to all of the neat features that aren't quite ready for a true release, but usually work like a charm. Currently, there are nearly 30 experimental features available for you to play with. All you have to do is choose "Enable," and then click the "Save Changes" button at the bottom of your screen.
Right now, a few of my favorites are the Muzzle (hides friend's status messages), NavBar Drag and Drop (let's you move your menus around and put them in the order you like), and the Mark as Read Button (adds a 'Mark as Read' button to use instead of the drop down list).
By the way, if you're having trouble finding the little green beaker, you can access the Labs section by clicking the Labs tab in Gmail Settings.
Disable all Gmail Labs Features
Since these features are still experimental, there's a small chance that enabling a feature can "break" your Gmail. Do not fear, though, as the Gmail team has left us a way to disable all Labs Features. All you have to do is go to https://mail.google.com/mail/?labs=0, and then manually disable the feature you think is causing all the trouble.
Customize Gmail with new Gmail Themes
In case you haven't heard, the Gmail team rolled out several new themes about a week ago (around November 20th, 2008). With Gmail Themes, you can apply a different "skin" or "theme" to your Gmail account. All of the themes look wonderful and really help to dress up our favorite email application. At the time of this writing, I'm totally loving the Mountians theme, which presents a different, beautiful mountain scene each day.
To apply or change your Gmail Theme, simply go to Gmail Settings, and click on the Themes tab.